Royalchord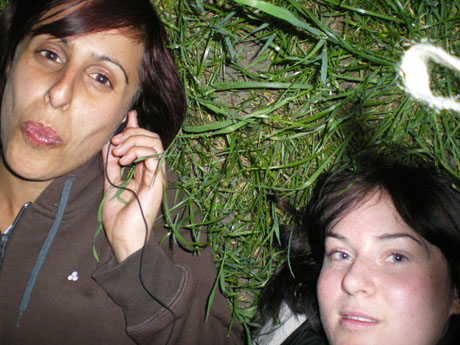 Hailing from Melbourne, Australia, Tammy Haider and Eliza Hiscox make the music of Royalchord. Starting out in 2001 playing dusty alt-country with a crew that at one point swelled up to 8 members, Tammy and Eliza now play primarily as a duo, replacing guitars with keyboards and band members with chopped drum breaks and sequenced bass lines. Their new record, The Good Fight, sees them combine electronics with their neurotic and melancholic sensibility, delivering songs that range from summer pop to funereal folk.
In 2001, the band recorded their debut album, I Gave You a Mountain, followed in 2003 by the EP Hug The Shadows. 2004 saw the beginning of a relentless schedule of traveling and DIY touring promoting their 2nd LP Nights On The Town, which Popmatters said "sounds like The Waifs hobo-ing through the out back." The song "Softly, I Leave You" from Nights was featured in Jerrycan, a film that won the jury prize at Cannes in 2008 and was also an official selection at Sundance.
The origin of The Good Fight can be traced back to late 2007, when Tammy and Eliza were living in Guatemala. They spent three nights in Livingston, a coastal town with a mix of European, African and Latin influence. A stolen purse and a trip on a motorcycle led to a group of locals assisting the duo and bringing them to a strange speakeasy, where much beer was drunk and many friends were made (neatly documented in the song "All Your Caribbean"). This experience awakened something in Tammy and Eliza, a new focus on their craft and desire to make it happen.
The warmth of Guatemala was a harsh contrast to Berlin, where the band moved to in the winter of 2008. Broke and not knowing a single word of German, the cold only deepened their feelings of isolation. The focus was still there however, and out of this intense loneliness came a realization – instead of posturing as an alt-country duo, writing songs about long lost loves that may or may not have existed, they needed to open up and truely reflect on their experiences, and embrace the new sounds that they had encountered in their travels. Using isolation as a tool, they moved once again to a village of 97 people in the south of France, and set out recording. With a stack of keyboards and pawn shop instruments, Royalchord redefined their sound and made their most personal record yet – dance music for the down and out.
"The Good Fight" was released in August 2009 on Supply & Demand Music.